I have worked with Multimedia Projects for many years during which time they have put together 4 web sites for me and my businesses.  In addition, they continually look after these sites generating better stats month on month by working hard on search engine optimisation.
However, what really sets MMP apart from others is that they look at all design from a 'business perspective', in other words, they fully understand that the web site needs to work hard for the business and not just look nice or indeed have the latest wiz bang features.
They will take a brief and pretty quickly get to grips with your business and its needs, a rarity in IT land! The team are very happy to work with you as the development moves forward and indeed understanding of you changing your mind mid stream; this is really helpful as it enables both sides to work from an outline brief at the start.
I can strongly recommend giving  the guys at MMP a chance to produce your next web site.
Andy Neale
www.dandsevents.co.uk
www.automotional.com
---
I wanted to say a big "Thank You" for the work and service on the new project. I am really pleased with our new websites – not least because they are exactly what we wanted (and more) because you input so many good ideas yourself. Moreover this was a huge task in scale but during the changeover phase we actually increased turnover with no loss of service at all – a fantastic achievement.
Please pass on my thanks to your team for reacting 'over and above' the 'call of duty' in terms of speed of response and sheer professionalism. Not only did the team complete the work on time but also checked at every stage to make sure the functionality was as requested (although we had not specified requirements very well at times).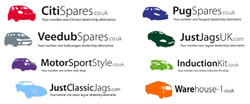 I have already recommended your company to a colleague who is looking for a website with a first class image and full functionality and will happily do so in the future. We have also already received a number of comments about the look and feel and functionality of the new sites, all positive. Especially gratifying is that fact that turnover is increasing as a result of your work.
It has been a hassle free pleasure dealing with you.
Douglas Carr
Owner of Pugspares.co.uk, Citispares.co.uk, JustJagsUk.com,
Justclassicjags.co.uk, Inductionkits.co.uk, Motorsportstyle.co.uk and more.
---
I have found working with Multimedia Projects very easy and their help and advice invaluable. Our website has gone from a standing start two years ago to over 5,000 visitors a month and with with many of our insurance products now quotable on line.
When I first starting dealing with Multimedia Projects I would of never imagined that I would be where I am now!
Andrew Pickles
Frank Pickles (Insurance Brokers) Ltd
www.frankpickles.co.uk
---
I have been working with the Multimedia Projects team for many years now.  They have always been very friendly and approachable and very professional.
A rare quality in the IT world is to be able to talk to them without the usual jargon other IT companies try to baffle you with!!  You can contact them anytime and establish what your trying to obtain from your website and they make suggestions with pro's and con's in simple terms you can understand and make a decision based on this.
MMP have been instrumental in our new website which has been complicated at times with us changing the 'goal posts'  to try and obtain a professional  interactive sales site to suite our needs, and they have always been very quick to solve any problems we put their way.
I have recommended MMP to other colleagues and will continue to do so, as their costs are very competitive which is all important in the present financial climate, and their site optimisation and back office services are excellent in moving the company forward.
Sara Ingham
Lancelyn Theatre Supplies
www.lancelynoxford.co.uk